Unfortunately this was another disastrous week for me in the world of fantasy football.  Once again, I failed even to reach the average points, only being able to rack up 49 points when the average was 58.  I currently sit outside the top 2 million places, something I am trying to remedy at the first opportunity.
This was down to the same two reasons as last week's failure: I didn't have Zlatan Ibrahimović, and I tried to think outside the box with my choice of captain rather than following the crowd and choosing Sergio Agüero.  You can rest assured; I have tried to combat both of these problems by activating my wildcard (after gameweek two, I know) and transferring in Ibrahimović.
As much as I would prefer not to dwell on the car crash that was my first two gameweeks, we might as well get on with it.  Here is my team from gameweek two: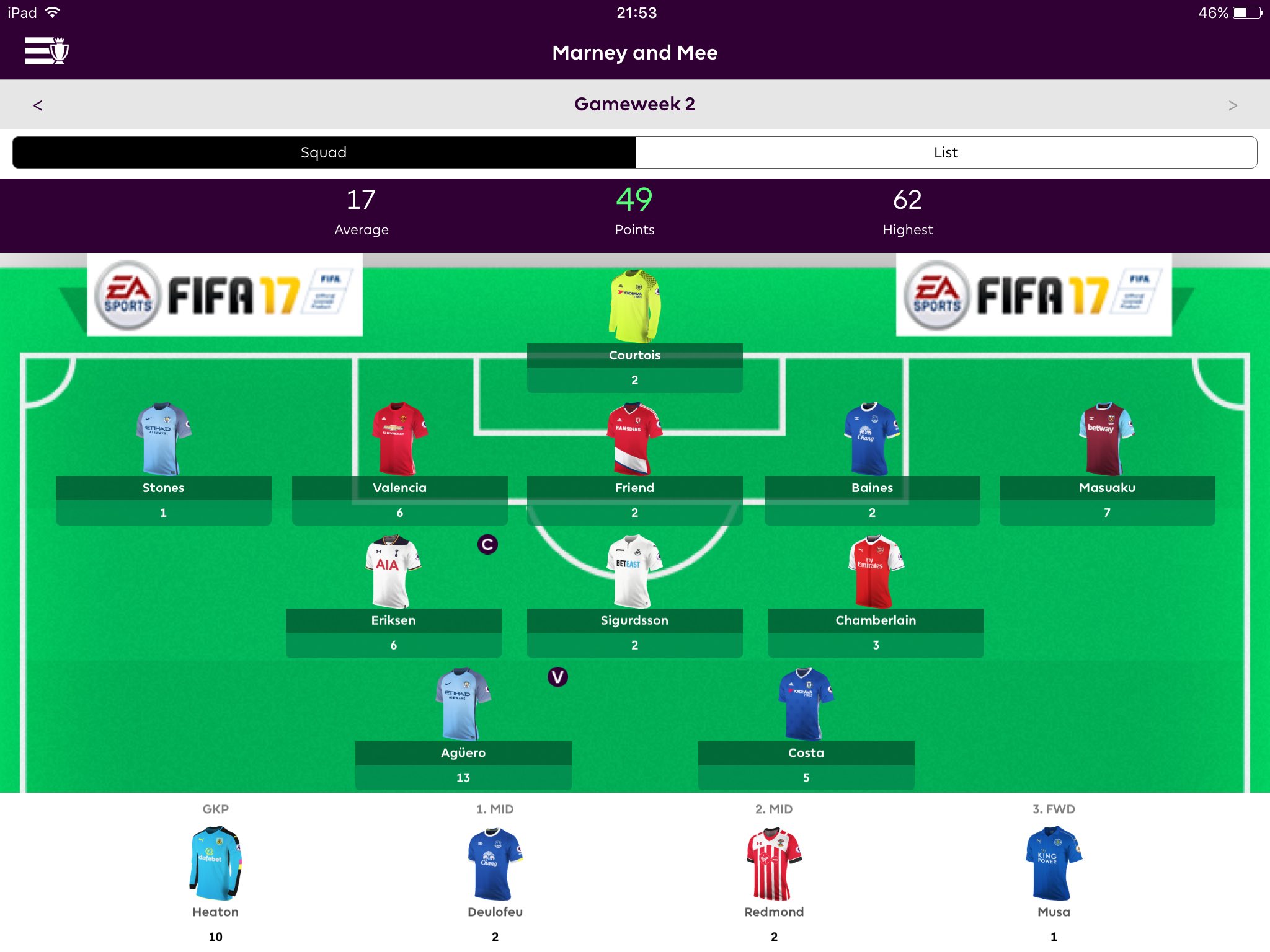 Thibaut Courtois – Chelsea, again, conceded, putting paid to my theory that they would have the best defensive record in the Premier League.  For now, at least.  Watford found away past by Belgian keeper, costing me four points.  Meanwhile, tucked away on my bench, Tom Heaton kept an unlikely clean sheet, making five saves and taking all three bonus points.  So near…and yet so far.
John Stones – Stones put in a solid performance, along with the rest of the Manchester City defence in a 4-1 win.  Although the back four were rarely troubled, a soft penalty was given against Raheem Sterling and was tucked away by Bojan – who I transferred out this very week – robbing me of another four points.  Stones also picked up a yellow card, causing him to get a one point deduction.
Antonio Valencia – Finally, someone who did well!  A Manchester United clean sheet against Southampton brought me a four point bonus from Antonio Valencia, but as Luke Shaw is the owned by 21% of people and he also got an assist and a couple of bonus points, my points from Valencia didn't give me much of an advantage of most people.
George Friend – I thought one of my differential picks had actually paid off when Middlesbrough were 2-0 up against Sunderland and looking to be under very little pressure, but one fumble from Brad Guzan later, another clean sheet bonus had gone begging.  However, Friend is one of the few players I have kept faith with, and I believe he will eventually become a very useful source of points.
Leighton Baines – Tony Pulis' West Brom sides rarely offer much of a threat to the opposition's goal – apart from at set pieces, that is.  Sure enough, Gareth McAuley rose highest from a corner to head home against Everton, dashing my dreams of a winning week.  One of the perks of having Leighton Baines is his undoubted prowess from free-kicks and penalties, but he has so far been unable to register any for my team.
Arthur Masuaku – The West Ham left back is somebody I was hopeful would pick up some points in the absence of Aaron Cresswell, and he is one of the few of my decisions which actually paid off!  Not only did West Ham pick up a clean sheet in their win against Bournemouth, but Masuaku was given a bonus point to pep up my score.
Christian Eriksen – Another poor choice of captain on my part, unfortunately.  I thought I would try and gain an advantage over those captaining Agüero and Ibrahimović by captaining one of the less popular players.  One thing I forgot, however, was that there is a reason some players aren't popular captain picks!  A point for a clean sheet made his points haul look a little less pathetic, but the damage was already done.
Gylfi Sigurdsson – The Icelandic midfielder went one better than last week, picking up a massive two points for playing over an hour of the match.  For a £7.5 million player, however, you need to be doing more than just average, and he is one of those to have faced the axe after this week.
Alex Oxlade-Chamberlain – After an impressive performance against Liverpool last week, I thought Oxlade-Chamberlain might finally have come of age in the Premier League and go on to become a goalscoring presence in the Arsenal midfield.  I was mistaken.
Sergio Agüero – In impressive points return from the Argentinian, but seeing as most people own him and many captained him, his points didn't do much in the way of pushing me up the table.  An opportunity missed.
Diego Costa – Another yellow card for dissent left me hiding behind the sofa in fear of a three point penalty for a red card – especially after he took a tumble in the penalty area.  Thankfully, he stayed on the field and epitomised his hateable character by scoring a winner at the death.  What a guy!
I have taken drastic measures in order to try and recover from my terrible start and get back towards the right end of the table before it is too late by playing my wildcard.  I have not showed much loyalty to my team, and have replaced most of them.  One of my main changes is to put more emphasis on my attackers, accepting that I will have to use budget defenders to allow for this.  Now, my striking force of Sergio Agüero, Zlatan Ibrahimović, and Diego Costa is about as strong a combination as there is, so hopefully that gamble can pay off.
Here is my team for gameweek three.  Hopefully it will fare better than my teams for the first two weeks – it can't do much worse!