Final Fantasy will be my weekly (hopefully) series previewing and reviewing Fantasy Football for that week.
This weekend marked the return of Fantasy Premier League, along with the end of summer socialising, and the increase in stress levels of roughly 3 million people!  As is often the case with the opening weekend of the Premier League, the average score in Fantasy Premier League was fairly low as people didn't know what to expect from their players.  The average this week was 44 points, and unfortunately I got below the average score this week!
My points haul was 41 points, which I felt was quite disappointing as, although there is plenty of time to rise up the league, I was aiming to be in the top half every week.  My overall aim for the season is to finish in the top 1 percent overall.  To be in the top 200,000 would be a success, as it would consolidate on last year's finish of being in the top 200,000.  Ideally, I would want to improve on last season, by coming higher than 176,149.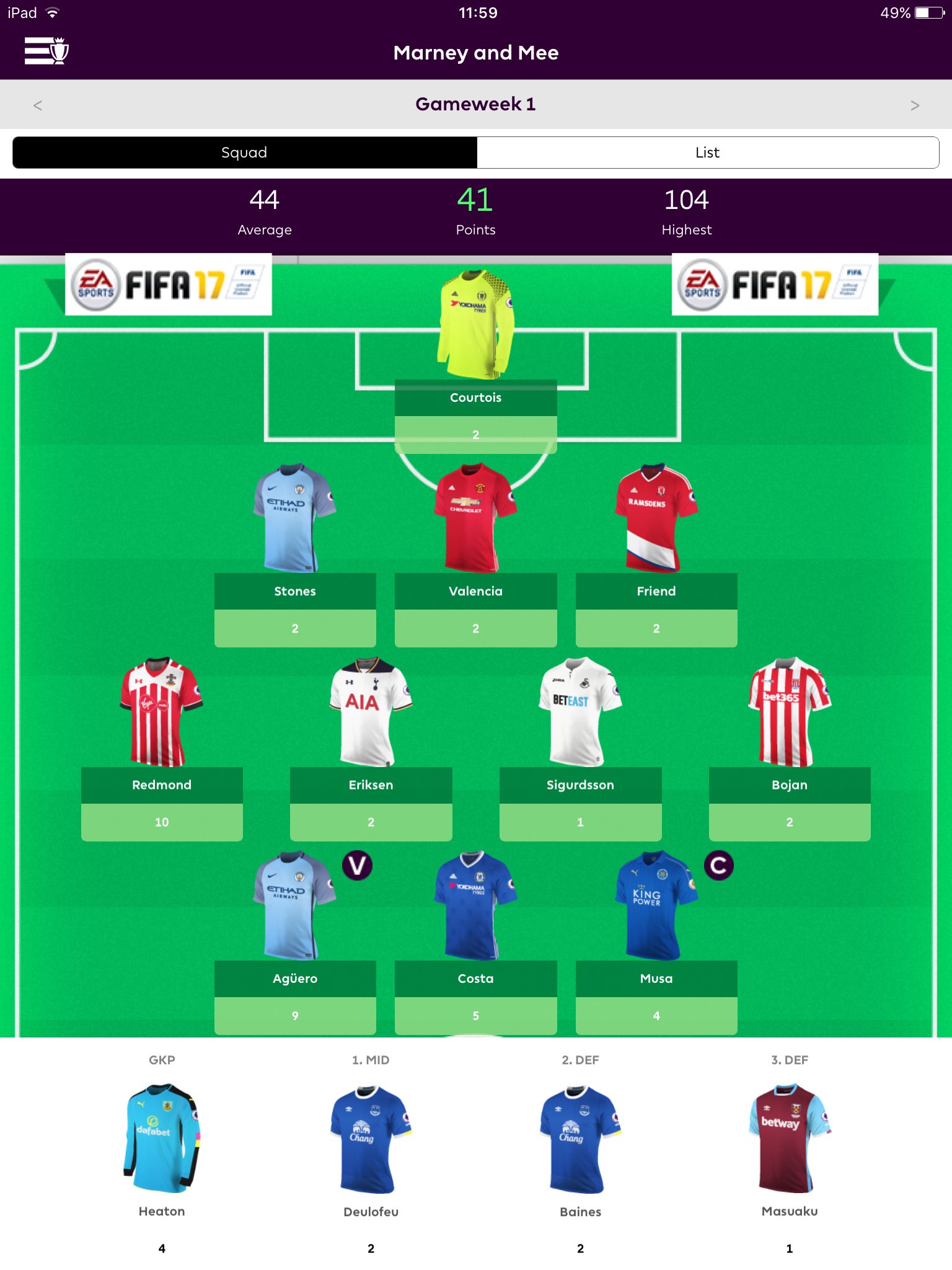 Above is my fantasy team for the past week and, as you can see, it was fairly underwhelming.  Although only one of my players – Gylfi Sigurdsson – failed to pick up the two points for playing 60 minutes, only three of my players actually managed to produce anything on top of that.
Here is my review of my team this gameweek:
Thibaut Courtois – I was disappointed with Courtois with week, as I expected Chelsea to have one of the strongest defences this season under Antonio Conte.  Conte's showing at Euro 2016 persuaded me that Chelsea goalkeepers and defenders are a good idea, especially if they succeed in signing Kalidou Koulibaly from Napoli.
John Stones – I thought a Manchester City clean sheet was inevitable against Sunderland so I was slightly disappointed they could not achieve a shut-out, but, as 35.6% of people own Stones, I'm not too worried.
Antonio Valencia – Valencia was another player I expected to bring me back clean sheet points, with José Mourinho's teams having a reputation for being defensively sound, but Bournemouth were able to score to dash those hopes.
George Friend – Friend is my main wildcard pick this season, as I am expecting Middlesbrough to be solid at the back, and Friend can also offer something going forward – hopefully racking up goals and assists!  However, this week Stoke were able to put a goal past the Boro.
Nathan Redmond – Redmond is one of the few picks who came up big for me this week.  I saw that Claude Puel was using him as a striker in pre-season, and seeing as he is a midfielder in the game, he gets an extra point for every goal.  He was able to score this week against Watford to become my highest points scorer.
Christian Eriksen – Eriksen was another disappointment, as he is somebody I was expecting to be one of my biggest point-scorers.  However, Eriksen's assists often rely on Kane's potency, which was sadly lacking against a strong Everton side.
Gylfi Sigurdsson – In truth, this one was my fault!  After Sigurdsson's exploits with Iceland in the Euros (the less said about that the better!), he was only named as a substitute for Swansea.  This meant that he failed to pick up the two points for playing more than an hour, and didn't have sufficient game time to make an impact on the match.
Bojan Krkić – I think Stoke could be a quality outfit this season, and Bojan is somebody who could have a very productive season.  With a lack of strikers available to Stoke at the moment, it is likely that the attacking midfielders – namely Bojan and Xherdan Shaqiri – will often be called upon to play higher up the field.  It was Shaqiri who took the points this week, but I remain hopeful for the future.
Sergio Agüero – Agüero is a banker in fantasy football, and can be relied upon to bag a goal every couple of games for you.  However, his points are of little consequence as so many people own him, so my main regret was having him as my vice-captain rather than captain.
Diego Costa – Costa is another of the players I'm expecting to be one of the players who will give me a high points return.  However, red and yellow cards are always a risk with Costa, and he was lucky to remain on the pitch against West Ham and picked up a one point deduction for being booked.  I was still pleased with his goal though, and hope for many more this year!
Ahmed Musa – Musa was another of my wildcard picks and, although I don't regret putting him in my team, it was definitely a mistake to captain him.  I thought I would try and get a points advantage on others, who would most likely be captaining Agüero.  However, Hull shocked the world by beating the champions with 13 fit players, so that gamble didn't pay off.
This is my first draft for gameweek two – hopefully it can serve me better than this week.  So far, I haven't used my transfer as I feel my squad is good enough and has positive fixtures for this week.  So far I haven't learnt my lesson from not captaining Agüero last week but, if this draft is anything like any of my pre-gameweek one drafts, my team that is locked in at 11:30 on Saturday will be completely different anyway!